While you can inflate many Air Lift products using a standard tyre pump or workshop compressor, this can make adjustments difficult or impossible while on the move. Here's where an Air Management System (A.M.S.) comes in.
An Air Management System generally consists of the following:
A control system
A high pressure 12 volt air compressor
An air reservoir
Air lines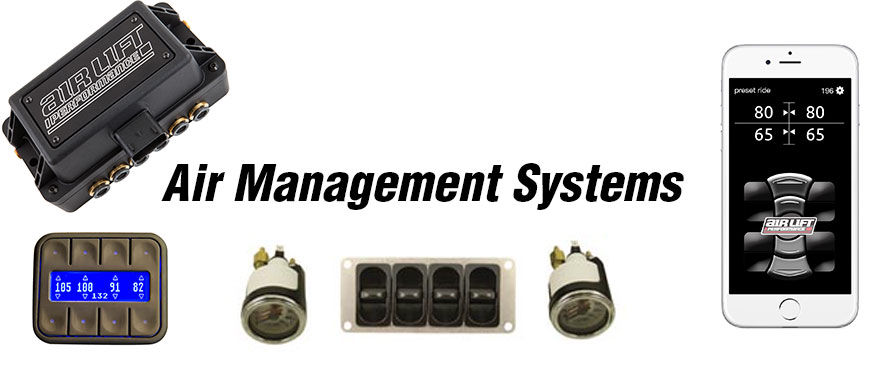 The management system is the brain of the system. These range in complexity, price and features. On the surface these are fundamentally a collection of valves that can be opened and closed, which in turn transfer air from the reservoir to the air springs.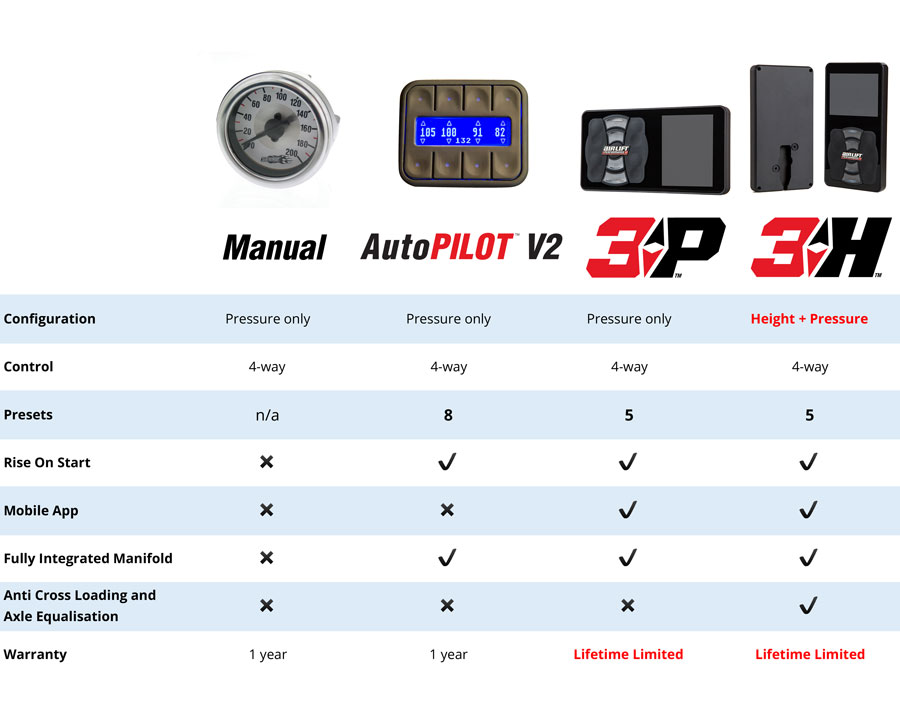 Air Compressors
The air compressor generally runs off the car's battery or leisure battery. There are engine driven options available for some vehicles but the majority run from a 12 V supply. The compressor's job is simply to fill the reservoir with compressed air. 
Increasing the compressor size won't necessarily make your air springs move faster, but it will fill the reservoir quicker.
Most of the compressors we sell are made by Viair, which are world renowned for their high quality, low noise, great reliability and overall good looks.
There are many compressors to choose from to suit your budget and requirements, starting from the Viair 325C, up to the Viair 480C. The most popular option is the 380C which combines a 100% duty cycle with a decent fill rate while maintaining a reasonable price tag. Compressors also come in pairs.
Air Reservoirs
These are metal containers for storing compressed air, and work in much the same way as a workshop compressor system. Once the reservoir is filled you are provided with an air supply, which is then routed to the air springs via the controller.
The reservoirs come in a variety of sizes and shapes depending on what space you have to work with. These start from 2 gallons, the most popular being the 5 gallon and the 4 gallon pancake tank which is designed for a spare wheel well. If the space is available, these range up to 12 gallons! The larger the reservoir the more air you have available before the compressor needs to turn back on. However larger reservoirs take longer to fill so a compressor upgrade may be worthwhile.
Aluminium tanks are lighter than their steel equivalents, and tend to be more aesthetically pleasing. The steel tanks are slightly more robust and tend to have a higher pressure rating, but in most cases it purely comes down to the look and the space you have.
In some cases a reservoir may not be required, though this is usually only recommended for very light cars or those fitted with air on just one axle.
Air Lines
The air line is simply there to transfer air around the system. Air Lift systems usually come with 1/4" air line as standard, which provides a good balance between speed and accuracy. The other options are 3/8" and 1/2" air lines. These give a greater transfer speed thus a higher rate of adjustment, however when fitted to lightweight cars some accuracy can be lost. As such we generally recommend sticking to 1/4" lines on lighter cars.
We are constantly developing new systems, and we specialise in custom parts.
If you don't see your vehicle listed, please get in touch with your requirements.
Some examples of our bespoke installed setups:
-Audi (early models)
-BMW (various)
-Citreon Saxo
-Karmann Ghia
-Mazda RX8
-Mercedes Benz (various)
-Mini
-Nissan Elgrand
-Saab (various)
-Smart FourTwo
-Vauxhall Astra
-Vauxhall Corsa
-VW Beetle (Aircooled)
-VW T2 (Bay and Split screen)
-VW Transporter T4 (front and rear!)
And many more...